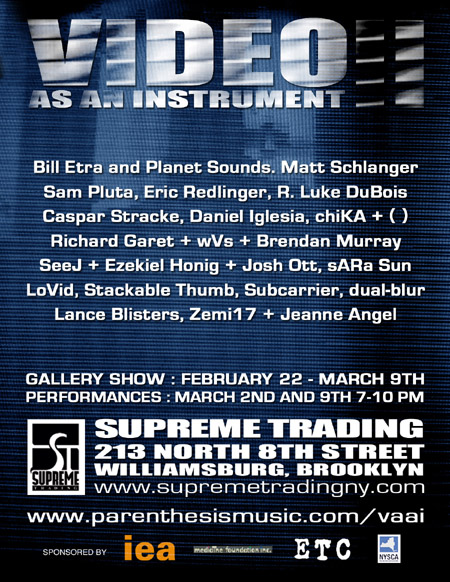 VIDEO AS AN INSTRUMENT : VAAI II
GALLERY SHOW AND PERFORMANCES

video as an instrument is a show with artists working with a synchronous relationship between image and sound. Artists and performers use a
myriad of techniques with customized applications and instruments, found sources and samples, and real time performance to create
improvised compositions. video as an instrument includes videos, installations, and performances.

SUPREME TRADING GALLERY
www.supremetradingny.com

213 North 8th Street
L Train to Bedford Avenue
Williamsburg, Brooklyn
GALLERY SHOW
DURING THE WEEK BY APPOINTMENT
TALK WITH PARTICIPATING ARTISTS SUNDAY, MARCH 9TH AT 6PM

Matthew Schlanger
LoVid
Bill Etra
SeeJ with Ezekiel Honig
sARa Ching-Yu Sun
Richard Garet with Brendan Murray and wVs
Caspar Stracke
Daniel Iglesia
Sam Pluta

PERFORMANCES
SUNDAY, MARCH 9TH 7 PM $10
Zemi17 and Jeanne Angel
Ezekiel Honig with Josh Ott
Eric Redlinger
Daniel Iglesia
Richard Garet and wVs
( ) and chiKA
Stackable Thumb
SUNDAY, MARCH 2ND 7 PM $10
Bill Etra and Planet Sounds
Subcarrier
Sam Pluta
dual blur
Lance Blisters
R. Luke DuBois


Bill Etra
Bill Etra (Born March 27, 1947) is the co-inventor (with Steve Rutt) of the Rutt/Etra Video Synthesizer and Live Video pioneer. Bill is a founding member of The Kitchen.
He is currently working on "The New Machine", an advanced digital video synthesizer that gives the artist "total plasticity of image" in real time. Mr. Etra has held several
patents, some include developments for 3-D television and text-based (versus time-code based) editing of video.
Brendan Murray
Brendan Murray is a self-taught musician living in Somerville, MA. He has actively recorded and performed with electronics since 1999. He regards his music as a balance
between spontaneous sound making and compositional rigor, with an emphasis on drones and repetition. He records and processes instruments and tapes until all traces
of instrumentality are blurred, leaving only large blocks of pure sound. He has recorded four full-length CDs, four cdrs and two cassettes for various record labels in the
United States and Europe. Murray has also toured extensively throughout the United States as a solo performer and as a member of various improvising ensembles.
He is actively involved with long distance collaborations with musicians and sound artists such as Seth Nehil, Richard Garet and Chuck Bettis. He is also a founding
member of the group Ouest, with longtime friends and collaborators Jay Sullivan and Howard Stelzer. Other activities include playing drums and guitar in the rock
band Paper Summer, composing music for film and occasionally presenting a concert series in the Boston area; "Uppercase Sound", which features upcoming
and established electronic musicians from New England. Additional info at: www.brendanmurray.com
Caspar Stracke
Caspar Stracke is a media artist from Hamburg, Germany living and working in New York since 1993. He worked in the realm of Experimental Cinema, since 1993 in
Digital Media and Media Archaeology. His films, videos and installation work has been shown in numerous exhibitions, retrospectives and festivals ithroughout North and
South America, Europe and Asia. In 1999 he completed his first feature-length film project "CIRCLE'S SHORT CIRCUIT" which toured throughout the US and Europe and
was selected for the American Century Part II exhibition at the Whitney Museum, NY. He is an active member of THE THING, a NY-based nexus for net culture. He has
curated video programs for Knitting Factory, NY, Eighth Floor Gallery, NY, Ocularis, Brooklyn, Up and Coming, Hannover, Cityzooms Bremen / Barcelona, VIDEOEX,
Zürich among others. Since 2005 he is the co-director of video_dumbo a festival for contemporary video art in NYC, co-presented by the
Dumbo Arts Center. (dac) http://www.videokasbah.net/
CHiKA
CHiKA is a live visuals artist working within New York's expanded cinema community and VJ scene. Her videos implement geometric minimalist patterns and
original graphics in unique, repetitive combinations.
She has performed for the Museum of Modern Art, Hammer Museum, Mutek, Decibel Festival, The Mapping Festival, the Bushwick Art Project, Asia Society and more.
CHiKA* :: visual explorations in real time
www.imagima.com http://myspace.com/visualicious www.youtube.com/user/chicp

Daniel Iglesia
Daniel Iglesia creates music and media for humans, computers, and broad interactions of the two. His works have taken the form of audio and video performance,
instrumental works with live electronics, gallery installations, software development, and collaborations with many disciplines including theater and dance. His work has
been presented throughout NYC in such diverse venues as Lincoln Center, Eyebeam Gallery, The Stone, Ontological-Hysteric Theatre, Merce Cunningham Studio, Roulette,
the Public Theater, and in international festivals in the U.S., France, and Spain. This spring, he has ensemble+electronics performances by the International Contemporary
Ensemble at Merkin Hall, and the Talea Ensemble at the "Music With a View" series at the Flea Theater; he'll also have more live computer performances at Monkeytown
and the Tank. http://music.columbia.edu/~daniglesia

Eric Redlinger
Eric Redlinger is a sound designer and interactive media performer. His musical background includes significant research in both extremes of the western musical spectrum.
A long-time composer and performer of electronic music, Eric also plays the lute and sings in the early music ensemble Asteria, putting him on a musical map that embraces
both the mystical lushness and elegant complexity of the 14th and 15th century polyphonists as well as the exacting control over sonority and acoustics made possible
by contemporary synthesis and audio processing techniques.
His current multimedia work is strongly linked with another of his passions, collaboration. He is the creator of Mrmr, a networking technology that enables you to turn
ordinary mobile phones and PDAs into ad-hoc controllers for multimedia performance, and he has been a contributor to numerous open-source media initiatives, including
KeyWorx, a European Union project to develop a platform for inter-media synthesis and networked-based collaboration.
Eric holds a research position at Brooklyn Polytechnic's Integrated Digital Media Institute (IDMI) and he is on the adjunct faculty of Parsons School of Design in New York City.
Ezekiel Honig
A New York City native, and founder/label manager for the Anticipate and Microcosm labels, Ezekiel Honig concentrates on his idiosyncratic brand of
emotively warm electronic-acoustic music. Using the loop as more of a toolthan a rule, Honig paints outside the lines, nestling into a comfortable
space between techno, house and ambient - using them as reference pointsfrom which to stray, rather than as steadfast frameworks. Drawing on the
rich history of musique concrete, Honig looks to incorporate a material nature into his music by imbuing it with a host of field
recording/found-sound sources in the search for a balance between digital software innovation and the physicality of the world around us. His music is
one of contrast and contradiction, combining minimal, abstract tendencies with a core of timeless harmonics - pairing fuzzy chords with clunky and dirty "mishaps.
www.ezekielhonig.com http://www.anticipaterecordings.com http://www.microcosm-music.com

Jeanne Angel
Jeanne Angel is great on whole wheat. Extra pickles, hold the mayo. She lives in Brooklyn and spends a lot of time in front of the computer.
She got her BS and MS from Polytechnic University and IDMI, and is passionate about digital media, the human condition, and physics, even tho shes
pretty bad at math. Her creative focus in the performing arts is hd video, motion graphics, image/information manipulation, and
multichannel installations. www.area33.com
Joshua Ott
New York-based multidisciplinary artist Joshue Ott creates cinematic visual improvisations, often performed live and projected in large scale. Working from hand-drawn forms
which he then manipulates with superDraw, a software instrument of his own design, Ott composes evolving images that reside somewhere between minimalism, psychedelia,
and Cagean chance. He performs frequently with musicians, sympathetically translating sound to vision to yield immersive multisensory experiences that are at once immediate
and synergistic. Ott's work has recently been featured in exhibitions at Paris's Le Cube, the Playgrounds Audiovisual Art Festival in the Netherlands (2007), and the 2006
Ars Electronica Animation Festival. He has performed at Live Cinema Nights: Silver Lake Film Festival, in Los Angeles; as part of the Boston Cyber Arts Festival; and at venues
throughout New York City, including Carnegie Hall and the Knitting Factory. http://superdraw.intervalstudios.com
Lance Blisters
LANCE BLISTERS: LIVE Jungle, Breakcore, Punk, and Noise performed with MIDI Guitar and Microphone, using custom software to create cutup political anthems.
LIVE synchronized visual transcriptions of the songs' subjects. LANCE BLISTERS was initiated in 2003 to SMASH THE STATE with a show which will
ROCK YOUR FACE OFF!
LANCE BLISTERS is a live multimedia band currently comprising Lance Blisters (music) and Ilan Katin (visuals). Separately and together, they have played hundreds of
shows in NYC and Europe over the last 6 years, sharing stages with artists including Venetian Snares, Jega, U-ziq, Datach'i, Soundmurderer, Drop The Lime and
Genesis P-Orridge, at venues including Tonic, Knitting Factory, Rothko, Chashama in Times Square, and many lofts and warehouses. http://www.lanceblisters.com

LoVid
LoVid is an interdisciplinary artist duo composed of Tali Hinkis and Kyle Lapidus. Our work includes live video installations, sculptures, digital prints, patchworks, media
projects, performances, and video recordings. We combine many opposing elements in our work, contrasting hard electronics with soft patchworks, analog and digital, or
handmade and machine produced objects. This multidirectional approach is also reflected in the content of our work: romantic and aggressive, wireless and wire-full. We
are interested in the ways in which the human body and mind observe, process, and respond to both natural and technological environments, and in the preservation of
data, signals, and memory. http://www.lovid.org/
Matthew Schlanger
Matthew Schlanger's exhibitions include the 1987 Biennial show at the Whitney Museum, PS1, The New Museum, The Kitchen, Tibor de Nagy, Thread Waxing Space,
Film Anthology Archives, Time Based Arts and Monte Video in Amsterdam, the 1988 Fukui International Video Biennial, the American Film Institute Video Festival, The
Everson Museum, and The Bronx Museum. Collections include Monte Video, the Donnel Media Center of the New York Public Library and the Kitchen. Matthew has taught
video production and art for several years at the School of Visual Arts Film Department and MFA Computer Art, and has lectured about video art at SUNY Binghamton and
Buffalo campuses, Rutgers University, Ithaca College and the American Film Institute in LA. Schlanger has also taught graduate courses in interactive programming for the
School of Visual Arts M.F.A. degree program in Computer Art.
Working with David Jones, Schlanger's video hardware development work for the Experimental Television Center, and for Design Lab, included a significant contribution in
building custom analog and digital image and sound synthesizers currently installed at the Television Center. Matthew is currently the president of Black Hammer Productions, Inc.
Black Hammer Productions, formed in 1995, is an award winning company that specializes in the development of interactive media products and games. BHP's many projects
include educational, retail and corporate CD-ROMs, kiosks, and websites, and games for varied audiences and platforms. Clients include Scholastic, Nickelodeon, Oxygen
Networks, the American Museum of Natural History, LDEO at Columbia University, and many more. Game platforms include Game Boy Advance and PC.
www.lumpybanger.com www.blackhammer.com www.blackhammergames.com

Planet Sounds (James Herring)
Creating percussive soundscapes and musical compositions that reflex the eternal vibrations of earth. Primarily using custom
built Kalimbas (African Thumb Piano), mixed with computer based digital synthesized processing.

R. Luke DuBois
R. Luke DuBois is a composer, performer, video artist, and programmer living in New York City. He holds a doctorate in music composition from Columbia University and
teaches interactive sound and video performance at Columbia's Computer Music Center and at the Interactive Telecommunications Program at New York University. He has
collaborated on interactive performance, installation, and music production work with many artists and organizations including Toni Dove, Matthew Ritchie, Todd Reynolds,
Michael Joaquin Grey, Elliott Sharp, Michael Gordon, Bang on a Can, Engine27, Harvestworks, and LEMUR, and was the director of the Princeton Laptop Orchestra for its 2007
season. He is a co-author of Jitter, a software suite developed by Cycling'74 for real-time manipulation of matrix data. His music (with or without his band, the Freight Elevator Quartet),
is available on Caipirinha/Sire, Cycling'74, and Cantaloupe music, and his artwork is represented by bitforms gallery in New York City. http://lukedubois.com/
Richard Garet
Richard Garet is a sound artist, a video artist, and a painter. He is interested in the phenomena found and produced in aural and visual time-based media, in nature's processes,
and human beings' relationship with both artificial and natural environments. Garet explores the it-referential, communicational, and sensory characteristics of the various media
he utilizes. Additionally, he focuses on the investigation of aural and visual spatial-contexts, relational structures, process, materiality, and form. Even though garet's work
suits the standard gallery setting, many of his other activities as an artist explore the various practices of experimental sound and video performance. All of these modes
are additional ways in which Garet's work exposes the audience to visual and physical acoustic sensory perception. Richard Garet has also collaborated with artists such
as Andy Graydon, Gill Arno, Ben Owen, Gil Sanson, and Andre Goncalves through the EA collective. Also with Brendan Murray, Shimpei Takeda, Sawako, Chica Iijima,
Bruce Tovsky, Bruce Mcclure, Adam Kendall, Jeremy Slater, Peter Eudenbach, Zach Layton, Wolfgang Von Stüermer, Zimoun, and Aaron Kadoch.
Additional info at: www.richardgaret.com

Rui Pereira (rux) : dual-blur
Rui Pereira (rux) is an interaction-media-artist-researcher-creative-student-boy from Portugal currently living and studying in NYC. His works range from media errors to
media control and interfaces, cross-modal perception and live visuals creation, interaction design and other electronic and digital absurdities. has performed live-visuals since
2000 for jungle-techno-noise-kitsch-pop-punk parties and festivals in Portugal, Spain, UK and US under various id's and started developping his own home-made interfaces
(Loop-R) in 2004. Now he has just finished his new interface (looop-r) and is exploring it mixing-cutting-sequencing-scratching audio-video loops in realtime city-mashup
performances. Loop-r has been presented at FILE'06 (Sao Paulo), was demo'ed at NIME'07(New York) and featured (along with its author interview) at VJKungFu.tv,
the portal for DIY visual artists. Rux keeps studying and playing with technology and people at his master's program at ITP- NYU, lately he has been interested in
non-sense interaction objects, parasites made of code and human powered sequencing machinery.
seej
Producer, educator, sculptor, visualist; seej (Chris Jordan) focuses on the fundamental aspects of light and the mechanics of vision, and how these affect us. His live
projections have been an integral part of dance, orchestra, dj, theater, parade, and circus performances. He teaches occasionally, gives sporadic lectures, organizes
semi-regular salons, and projects everywhere.
Chris also organizes T-Minus: the timelapse film festival, SINK, G33kXmas, and the NY's Visualist Salon Series.
www.seej.net www.seej.net/g33kxmas/ www.seej.net/sink www.t-minus.org
Sam Pluta
Sam Pluta is a New York City based composer and improviser working in the fields of acoustic and electronic music. As a laptop soloist, he has been featured on many
concerts and festivals, including last year's TodaysArt Festival in The Netherlands. His work has been commissioned and premiered by many notable performers and
ensembles including: RIOT Trio, Dave Eggar, Ha-Yang Kim, Prism Saxophone Quartet and Teresa McCollough. As a founding member of the microtonal drone and noise
band Glissando Bin Laden, he has focused in recent years in fusing the worlds of acoustic and electronic instruments through improvisation. Also interested in the world
of electronic non-pop, his analog synth band exclusiveOr recently recorded and released their first album on quiet design records. Sam's music is released on quiet
design, Seamus, and Vox Novus labels. http://www.sampluta.com myspace.com/sampluta
Stackable Thumb
Stackable Thumb's realtime cinema performances are a slapstick of broken tools and body contortions celebrating the ridiculousness of the Anthropocene.
Valued Cu$tomer and Naval Cassidy crammed onto the same stage for the first time in 8 years!
http://www.stackable.com
Subcarrier
SUBCARRIER is the duo of Andy Graydon (www.andygraydon.net) and Giles Hendrix (www.gesturemedia.tv) in which they explore the synch moment: that area of
correspondence in media where relationships resolve and dimensions expand. Synch in this way can mean the correspondence of image to sound, of object to media
object, of language to referent, and of live moment to recorded timebase. Using video of simple actions shot specifically for the performance, both Hendrix and Graydon
manipulate video and audio simultaneously to create a kind of "video concrete" in an improvisational setting, in which media objects arethe true instruments of performance.
sARa Ching-Yu Sun
Sara Ching-Yu Sun lives and works in Brooklyn. Her work includes video, video/photo based installation, photography and drawing. Sara received her BA from the
University of California, Los Angeles and her MFA from Massachusetts College of Art. She has exhibited her work in solo/two-person shows at Gallery 456 and
Momenta Art; group shows include Art in General, Triple Candie, Centre Pompidou, Paris, Palm Beach Institute of Contemporary Art, Boston Center for the Arts,
and Video_Dumbo 2007. Sara received an award in 1994 at the 15th AIM Program-The Bronx Museum of the Arts, a 2001 awarded artist residency at the McColl Center,
NC, the 2002 Annual Selection Exhibition at the Asian American Art Center, NY, a 2003 Honorary Fellowship at the Djerassi Residency, CA, and a 2004 awarded
residency at the Ping-Tung Peninsula International Arts Festival and Residency in Taiwan. http://www.saracysun.com

Zemi17
Zemi17 (or the human known as A. Taylor Kuffner), is a composer, musician and media artist who creates experiences that are to plant
seeds for the evolution of consciousness.
He studied new physics, technology, mixed media installation and experimental performance and worked on technology art, internet art, electronic-tribal music,
guerrilla performance and circus artistry throughout the underground art scene of San Francisco and New Orleans . He moved to New York in 1997 and formed the experimental
multi-media performance group Ransom Corp. His 'urban rituals', a fusion of modern and butoh dance, performance art, aerial acrobatics, video projections, site-specific installations
and interactive audio scores, were performed in abandoned warehouses, subways, boats, rooftops and parks. His large scale works are The Fractal Seed and Sky Plots, which debuted
at La Mama ETC and toured throughout Europe. He founded the 23 Windows collective community art studio in Brooklyn in 2001 and co-created and curated The Resonant Wave
Experimental Multi Media Art Festival in Berlin.
Zemi17 lived and worked in Indonesia 2004 – 2006 collecting field recordings of nature and researching classic gamelan music and performed with professional groups in Yogyakarta
and Bali . His study was concentrated on two archaic forms of gamelan, Sekatan and Slonding.
Zemi17 has received awards and sponsorships individually and through his affiliations from the League of Electronic Musical Urban Robots (LEMUR), The Indonesian
Department of Foreign Affair, the Republic of Indonesia's Dharmasiswa Scholorship, the Berlin Arts Council, Kultur Im Spannwerk, I-D media Berlin, European Union Arts Council
through Schloss Brollin Research Labor, the James F. Robison Foundation, DTW fresh tracks, The Soros Foundation, Swiss Air, Psuedo.com and the estate of Dorthea Taylor.
http://zemi17.net/
Wolfgang Von Stüermer (wVs)
WvS is a New York City based sound organizer and software engineer, who studied computer music composition, classical composition and music theory in Europe
with composers Jolyon Brettingham-Smith, Morton Feldman, Gyoergy Ligeti, Roland Pfrengle, Luigi Nono, Wolfgang Rihm, Mathias Spahlinger and in the US with John Cage.
He wrote software for robotic systems & the Internet, composed for orchestra, chamber ensemble & solo instrument and conceptualized & realized computer controlled
interactive performances. WvS further lectured at IDEA'92 in Rotterdam on Internet based artists' community projects, attended the "Darmstadt Ferienkurse fuer Neue Musik"
as a sponsored fellow as well as many European Computer Music conferences. Apart from being the General Manager of "Knitting Factory Records" and running his own
record label "noharmdone" for many years, he was 'Artist in Residence' at Harvestworks, toured all over Europe & and performed in New York City at Roulette, the Knitting
Factory, the Generator Sound Gallery and recently with a variety of New York City's emerging experimental video artists at Goliath Visual Space, at Monkey Town as part of
the {R}AKE and the FLOW A/V performance series as well as solo at 'Good Bye Blue Monday' gallery and other venues. WvS keeps himself intellectually inspired through
the study of contemporary concepts of AI, cellular automata, chaos theory and analog systems modeling. His current improvisational electronic work is inspired by the
noise, experimental electronic, ambient and Japanese 'onkyo' genres. Additional info at: http://www.myspace.com/thesoundofwvs http://iwvs.am
( )
( ) is a sound artist essentially, but also works with video and sound in performance and installation settings.
( ) uses a laptop computer and other instruments and sources to create a variety of sound and image.
http://www.parenthesismusic.com/ http://www.parenthesismedia.com/



Thanks to Laura Ireland, Nich Wheeley, Chistopher Jurach and the staff at Supreme Trading, Sherry Miller Hocking and Hank Rudolph
from the Experimental Television Center, Peer Bode from Institute for Electronic Arts, and all of the artists that made this show possible.

Curated by Jeremy D. Slater